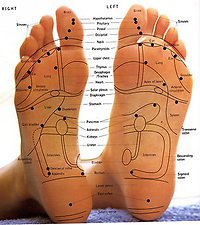 What is Reflexology?
Reflexology is a very simple therapy which can have amazing results. It is based on the theory that various areas of your feet known as 'reflexes', appear to have a direct relation to corresponding areas of your body.

Suitable for all ages, many people use Reflexology as a way of relaxing the mind and body and counteracting stress.

Reflexology is a gentle, holistic therapy which may encourage your body to heal itself, treating the whole person not just your prevailing symptoms.

Reflexology is the technique of applying gentle pressure to reflex areas on the feet to stimulate the body's own healing process thereby aiding your body to recover naturally, bring about a state of deep relaxation and to restore, maintain and promote good health.

The reflexes are incredibly specific and through touching them an experienced therapist may detect even the smallest imbalance in any of the systems of the body; working on these points may affect the corresponding organ or system of the body.

Your therapist will use her experience and sensitivity to decide which reflexes need extra work and how much pressure to use on them to bring the systems back into balance and achieve optimum health.

Reflexology is now recognised as a well established, natural and effective complementary therapy which can assist alongside orthodox medicine.
The History of Reflexology
The art of Reflexology dates back to ancient Egypt, India and China but it wasn't until 1913 that Dr William Fitzgerald "accidentally discovered" that pressing on certain points in the hands and feet would result in pain relief elsewhere in the body; he subsequently mapped out these zones and introduced it to the Western World as "Zone Therapy".

Dr Fitzgerald's work was further developed by another doctor, Dr Joe Shelby Riley and a Physiotherapist named Eunice Ingham. Modern reflexology was then pioneered in the 1930's by Eunice Ingham who, using 'zone therapy', painstakingly mapped out the reflexes of the body throughout her 40 years devoted to Reflexology and showed that the reflexes on the feet were an exact mirror image of the whole body. Eunice Ingham is credited with being the 'Mother of Reflexology' as we know and practice it today.

This ancient art is now a precise technique applied to specific points throughout the feet. The principle of Reflexology is that the feet reflect a map of the entire body incorporating each body system and including every gland and organ. By applying pressure to specific areas on the foot (the reflexes), a skilled Reflexologist is thought to help restore overall balance and homeostasis within the body.

Reflexology helps to restore and maintain health and well-being

Home / Benefits of Reflexology / Your Treatment / Price and Booking / Email